Book 3 in the Forbidden Series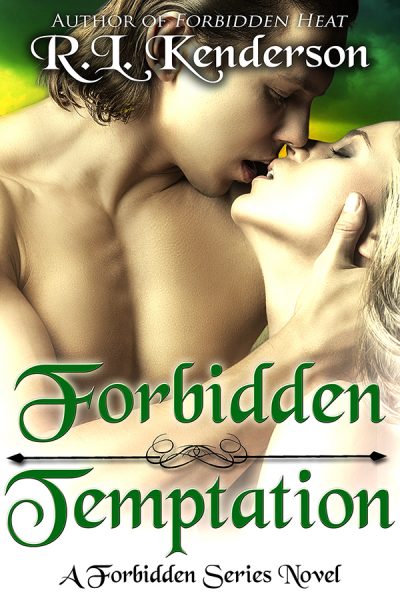 "This was a fantastic read – it was fast paced with lots of action, suspense and heat. The author has a distinctive writing style and I like how she introduces and integrates the couples in the story whilst primarily focusing on the primary couple. Everything flows smoothly – the author has truly outdone herself."
Since one fateful evening at a nightclub, Kenzie Swanson and Sawyer Lennar have shared an undeniable attraction. They've had moments where they couldn't ignore their desires, succumbing to their needs, and Sawyer has marked Kenzie in a way that no other man can.
But there is one problem that continues to keep them apart.
As a cat-shifter with a traumatic past, Sawyer hates humans—and Kenzie is all human.
Sawyer's hatred pushes Kenzie away, and they try to maintain their distance from each other—until they are mistakenly kidnapped and have to act as a couple. When the unforeseen happens, Kenzie can only do so much to deny herself from being intimate with Sawyer.
Given a chance at what might have been, Sawyer and Kenzie are forced to face the forbidden temptation to be with one another.
Reviews:
"Really enjoyed reading this book. When I found out it was out, I stayed up all night reading it not caring that I had to be up super early the next day. I devoured this book!"
"This series just keeps getting better with each book. You can really feel the emotions of the characters." 
Excerpt:
Turning off the engine, she sighed. Step one of the plan—finding someplace safe—was done, but step two—getting Sawyer into the house—was going to be difficult. Sawyer was over six feet and had to weigh over two hundred pounds. She was five-four and weighed one hundred ten pounds. She couldn't get him inside even if she dragged him. He'd been drugged and knocked out, and she had no idea if she would be able to wake him. It wouldn't be ideal, but if he remained unconscious, she would have to leave him on the garage floor while she got rid of the car. He hadn't moved since they got away, so the floor was looking like it might be her only option.
She stared down at Sawyer, asleep in her lap. He looked so peaceful, and she felt a little bad that she would have to wake him. She brushed his tawny hair off his face and neck before picking his head up and softly setting it down on the edge of the driver's seat.
She climbed out of the vehicle and opened the door to the house, so there wouldn't be anything in their path from the car to the house once she woke him.
She opened the passenger door and poked his leg. "Sawyer. Sawyer."
Nothing.
This time, she shook his arm. "Sawyer."
Still nothing.
She leaned in and shook his shoulders.
Nothing again.
Finally, she reached into the car and lightly smacked him on the face while trying not to fall on top of him. "Sawyer, wake up."
"Mmm."
"Sawyer, you need to wake up, so I can help you into the house. It's cold out here."
No response.
She went back around to the driver's side since his head was lying on the driver's seat. She sat down on the outside half and gave him a few more pats on the face since that had seemed to get a response out of him. "Sawyer, you need to get up. Now."
"Mmm," he muttered again. This time, he turned his head toward her and mumbled a word that sounded like make or Nate.
"You big oaf, will you please get up?" she hissed.
He opened his eyes.
Finally. Apparently, calling him names had worked.
She leaned her head over, so he could see her better. He looked at her with his amber eyes and smiled, as in an everything-is-hunky-dory-and-life-is-good kind of smile. Sawyer rarely smiled and never a smile filled with such happiness and contentment. And he certainly didn't smile at her.
Something wasn't right.
She tried to see his pupils since he had been drugged and knocked out, but the garage was too dark to assess them.
"Hey there, big guy. Can you get up for me, so we can go into the house?"
"Sure," he said with a dopey smile, still lying there without even attempting to get up.
Sure? Now, she knew something was wrong.
This was not the Sawyer that she knew. Sawyer was not passive. Sawyer was not cheerful. And Sawyer certainly did not agree with anything she said.
The sooner she got him into the house, the better.
"Okay, big boy, let's get you up."
She exited to go to Sawyer's side of the vehicle again. As she walked around to the open passenger door, he stared at her the whole time through the windshield, almost as if he were in a daze. He was starting to creep her out a little because he was never like this.
When she reached him, she got his legs out of the car and grabbed his hands. "I'm going to help you sit up. On the count of three, you push, and I'll pull, okay?"
"Okay," he answered.
She wasn't sure if he'd even heard what she said.
"Okay." She nodded. "One, two, three, and go!"
She yanked on his arms, hard, and it appeared that Sawyer was trying to help, but holy shit was the man heavy. She got him into a sitting position, and his feet were on the ground, but it hadn't been easy. It took another ten minutes to get him into the house, and despite the cold garage, she had started to break a sweat.
"Let's go to the couch," she told him.
Thankfully, it was cleared off. Her brother was a bachelor, and even though he was in his early thirties, he still lived like he was ten years younger. After she helped Sawyer get to the couch, she looked around and noticed the place was remarkably clean. She hoped it didn't mean what she thought it meant.
She went over to the thermostat and saw that the temperature was turned down to sixty-two degrees. That wasn't good either. She turned the heat up to seventy before she used the bathroom. She prayed her brother's girlfriend, Anna, had left some feminine products there.
Kenzie was in luck. She was relieved to get rid of her makeshift pad. Thank God that she was on birth control, that her periods were really light and would only last a few days, and that she was already on day three.
After she was done with the bathroom, she rummaged around her brother's coat closet for a warm coat, hat, and gloves. Once she found a spot to leave the car, she'd have to walk home. To say she wasn't looking forward to freezing her ass off while wondering if someone was out there, planning to kill her, would be an understatement.
She looked back at Sawyer and tried to ignore her irritation. She knew it wasn't his fault that he'd been drugged and injured, but it wasn't fair that she would have to do this all on her own either. She could really use his help right now.
After finding everything she needed, she returned to his side to check on him before she left. His eyes were closed, but he didn't seem to be sleeping, so she nudged him.
He opened his eyes and looked at her. She could see his pupils now, and they didn't appear to be dilated. That was a good sign, yet something was up. Even injured, she couldn't believe he wasn't taking charge, getting things done, and bossing her around.
She'd have to worry about it later though. If she had to deal with one more piece of bad news right now, she might explode. "I need to go and get rid of the car, but I'll be back as soon as possible."
She put on her brother's winter gear while Sawyer watched.
"Do you think you'll be okay while I'm gone?"
No reply.
He just blinked and stared at her hands while she put on the gloves.
"Sawyer, did you hear what I said? I need to get rid of the car. Are you going to be okay?"
He slowly raised his head and looked into her eyes. His brow furrowed, he asked, "Who's Sawyer?"